I've spent most of the last year writing – or trying to write – short stories.
Most failed at the first hurdle: I found out while writing that the story was too long to be short, so those ideas have been put to one side to be worked on later. Thankfully, I did eventually manage to write two stories which fully fitted the criteria I sought, and they'll be released later this year in Manifold Press's charity anthology Call To Arms.
The first* of my stories, A Cup of Tea, was inspired by this photo posted on Twitter by @WhoresofYore as part of her #HistoricalHotties: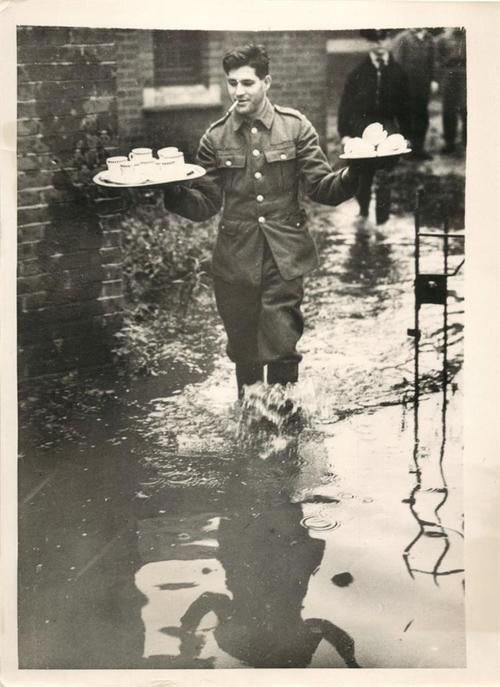 No sooner had I finished reading the caption ("1939- British soldier takes tea to comrades working to repair banks of River Ravensbourne which flooded south London") than ideas started growing in my mind about what might have happened just before this photo was taken… The result, as you'll be able to read in a few weeks time, is a short tale which focuses on a conversation between Robin and Frank. It was both one of the easiest and hardest bits of writing I've done so far.
Easy, because the idea flowed, and was the perfect length for this story-form.
Hard due to the care required in language, pacing, and phrasing to create the right atmosphere.
Due to the subject matter and the time in which it's set I'm not going to say that I hope you like it, but I hope it touches you and feels real enough that you'll be glad to know these characters meet again, later in their lives.
The second story was one I set out to find. At the Manifold Press AGM in April it was mentioned that there seemed to be a concentration in the submissions of Western European and North American characters and stories, and very few relating to the conflicts outside this sphere. It occurred to me that my own knowledge was rather lacking, so I settled down with the internet and some newly purchased and borrowed books to expand my knowledge. Somewhere amongst all the articles I read was a reference to "Brazil's wartime rubber boom".
This is the sort of thing which grabs my attention: not the battles and the strategy, but the logistics of how on earth one equips all those soldiers, sailors and airmen, and how can you ensure your supply lines? I only had a very hazy idea of the history and methods of rubber production, though I'm rather well aware of how vital a resource it is for all those aeroplanes, trucks, ambulances and suchlike the wartime factories were required to produce, so it came as rather a jolt to realise how different things could have been without the Brazilian Amazon.
I'm not sure what story I imagined I would write when I started researching this area of history, but Between Friends grew and built up its layers in draft after draft. Neither Carlos nor Luiz are men likely to feature in any official history of the war, but they are each playing their own small part to create a better world for the future – and I think that's what most people were fighting for, wasn't it?
Now head on over to the Manifold Press website and sign up for the newsletter and you'll receive full details of Call To Arms, along with other interesting items and articles, straight in your inbox on October 1st!
*first to be written. I've not seen a copy of the finished book yet, so I don't know what order they appear in there