In less than an hour it will officially be Advent, as the 1st Sunday of Advent falls in November this year, and in our family (as with several other families), means the start of mince pie eating season. Hence calling it Mince Pie Sunday.
A few years ago I made my own mincemeat for the first time, and since then I've rather been forced to continue doing so. Supermarket mincemeat just seems so… lacking in booze in comparison ;-)
So, since some* folks asked about it during discussion of mince pies on Facebook, here is the recipe I use. Be warned, it uses most of a bottle of brandy and about a third of a bottle of sherry. For me these quantities make about 2 years' worth, and the longer in advance you make it the tastier the results!
250g suet
500g raisins
300g currants
125g almonds, chopped or flaked
200g mixed peel
100g dried apricots, diced
500g cooking apples, peeled, cored & diced
300g sugar
1 tsp ground nutmeg
1 tsp ground allspice
1 tsp ground cinnamon
1/2 tsp ground cloves
500ml brandy
190ml dry sherry
Put everything in a bowl & mix it up together.
Put in a container to store (should be glass but I tend to use any non-metal airtight container)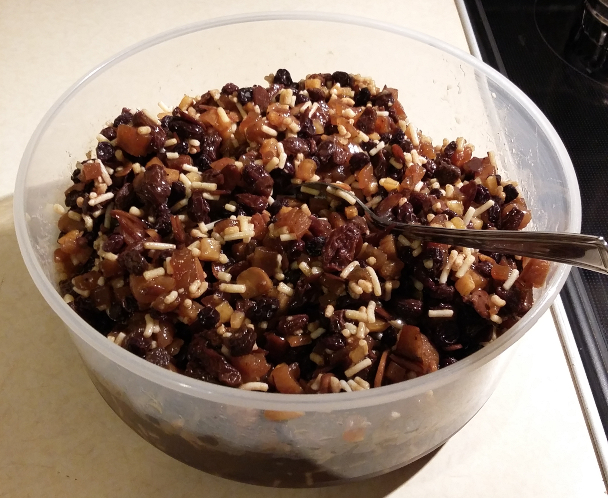 *ok, one person