Last night, Twitter friend @EA_unadorned posted the following challenge:
"Write a story or blog post using a word from my Scrabble board with @Exposing40 as a theme/title, tag me in, and I'll give a prize to the best one!"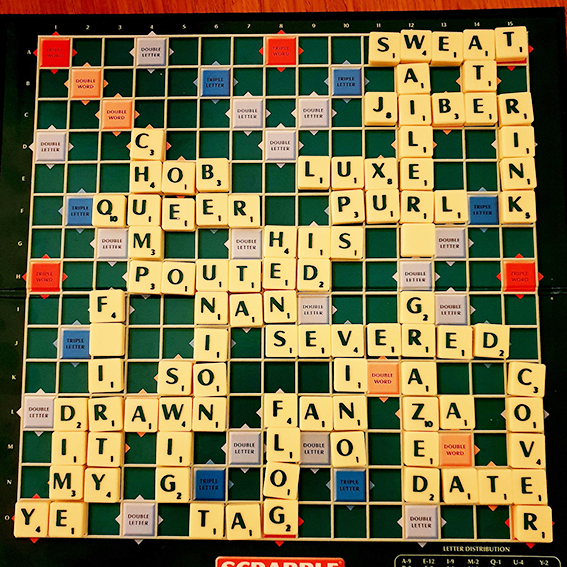 I have no idea why, but the word that caught my eye was 'severed'. Mentally, I rolled my eyes at myself – how on earth was I going to construct a non-grisly story around that word?
Well, as ever, it wasn't long before the question was answered for me, and lo I bring you the following short extract from a longer tale:
Severed
"I think I've severed an artery!"
"Oh, please! If you'd done that you'd be gasping on the floor." Peggy turned round with an exasperated sigh and gave her so-called-helper a look of disbelief.
"Well," he said, pulling his thumb from his mouth, "possibly a vein?"
She rolled her eyes but took his hand, cradling it gently in her smaller, oil-stained grip. "I think that might be a capillary you've caught to be honest. Those kind of cuts do sting though. Where did you catch yourself?"
"There." He pointed, and she turned to inspect the section of damaged aircraft engine he'd been helping her clean of oil and debris. In doing so, she released his hand and he felt the loss of contact as a chill on his skin.
"You got blood on the engine!"
He began to protest, but stopped and smiled awkwardly when she turned and grinned at him.
"What am I going to do with you now, eh?" she asked, head tilted just so, and smile drawing attention to her flushed cheeks.
"I don't know," he said, "I have a few ideas, but I doubt they'd be appropriate suggestions."
"That doesn't narrow things down – our acquaintance is based on me being employed by your brother-in-law. We're both unmarried, and alone in this shed at the opposite end of the airfield to any other building. There's very little even in that which most people would consider 'appropriate'."
"Quite." He paused, gathering his nerve as he would before ordering his crew into battle. "If you would like specifics, Miss Davies, I feel I would very much like to suggest that either you kiss me, or allow me to kiss you."
She looked shocked, and quickly turned to busy herself cleaning the engine, furiously wiping at the patch of blood mixed with oil where his carelessness had started this conversation. "I thought you didn't do that? I mean," her words tumbled, rushing from her lips, "Mrs Garston asked me to be careful how I speak to you – she doesn't like to see you be made to feel uncomfortable, and I can be a little …uncouth, at times, in my manner."
He stepped closer to her and laid a hand lightly on her shoulder. "Normally, yes. And thank you – both you and Sylvia – for being so polite and caring of my comfort. What she told you is true. I don't normally care for flirtation or innuendo, but there's something about you. You're unlike anyone I've ever met before, Miss Davies, and though I've never really understood before when people talk about these things, I do find myself quite desirous of intimate contact with you."
She turned towards him, stepping forwards to close the gap between their bodies. "If we're exploring intimate contact, Commander Rawlins, it's Peg or Peggy, not Miss Davies," she said before drawing his head down to bestow a lingering kiss on his lips.
~~~
Notes for people who have read Under Leaden Skies: Yes, Mrs Garston is Sylvia. Commander Rawlins is her brother. The brother-in-law mentioned is therefore of course Max or Teddy Garston. Peg has been in my head for a long time, and I know the general shape of her story but I'm still missing something, or trying to force something which doesn't fit, hence why I've been struggling & not yet written a sequel to ULS. I can tell you that Peg/Peggy isn't her legal name though – she's a Swallows & Amazons fan who adopted 'Peggy Blackett' as a nickname when she was a child. I have no idea if this scene will make it into the final version of any future book.