Note for people not coming here via the link-up of Eroticon write-ups: Some of the links in this post will take you to websites which may be deemed NSFW.
Gosh, how to sum up last weekend at Eroticon? To be honest, for me, "lifechanging" would not be exaggerating. Not only did I spend the weekend with a fabulous group of people, and actually feel fully part of the community (as opposed to last time I went in 2017 when I felt included but still slightly like I was maybe intruding given I don't write erotica or blog about sex and relationships or related topics), but on Saturday I had a Twitter notification of a new follower who I swiftly worked out was my husband. He had stayed at home while I was enjoying myself in London. That led to a conversation over Skype that evening which has been a bit of a game-changer in our relationship – we've had a rough few years, and had both been aware for some time that there were things we needed to talk about.
At this point, you may be thinking "Hang on, I came here for a post about Eroticon, and here she is just waffling on about her relationship with her husband? What's going on?"
To me, Eroticon and relationships – including the relationship I have with my own body and desires – are utterly intertwined. I honestly wouldn't be the person I am today without Eroticon (so if you're reading this & are one of the people who's been involved in organising this fabulous event over the years – THANK YOU!). I've gone from someone who is happy to write & discuss sex in a fictional context but feels a lot of societally-induced guilt over enjoying such things, and worries that people might be judging me for what I say or think on the topic, to someone who, apparently, has inspiring levels of confidence in being unapologetically themself. And it is all down to Eroticon and the sex-positive community I've been welcomed into.
So, now that you know how utterly awesome, inspiring, and life-changing an event Eroticon is, here's some highlights from my experience this year:
Hugs. All the hugs, but definitely ones from Michael, who is in joint-2nd place for "best hug giver" – my husband, of course, is top of my list, and no I'm not naming here the people who share that 2nd place with Michael, but it's not shared very widely

Girl on the Net saying "I know you!" because yes, I know we chatted a bit the last time I was at Eroticon, and I did do a reading then which I guess means it's more likely people might remember me than if I had just been in the audience, and we've probably chatted on Twitter (because I'm very chatty there), but come on! This is

Girl on the Net!

Being recognised & remembered by her is like – well like being remembered by any famous author would be!

Also lovely hugs from Ros on Saturday night, who again surprised me by recognising me. I feel a bit less weird now about having followed her on Twitter after she did a set at Eroticon 2017. She's awesome, by the way. You should all go see her show at Edinburgh and support her by showing up at other events too.

Lots & lots of hugs from other people too!

Lots of learning & knowledge – everything from medieval history and how the attitudes of that time are still with us today – though not in the way we might think – to new insights on time management & changing your habits to be more productive, to useful plugins for WordPress websites

Having a play with the ElectraStim demo. I had a go with it on my hand & in the crook of my elbow, and it was definitely more my kind of things than a lot of toys are. Not cheap though – especially for the super-shiny new controller which you can literally operate with a wave of your hand. Goals. It's good to have goals, as we learned in the time management session!
I'm going to do a separate post about all the sessions I went to because this has all gone on rather long for what was intended to be a brief overview. In summary: Eroticon is awesome. London hotels are expensive. If the tweets and posts about the event – from everyone, not just me – have piqued your interest, you should come next year.
I am definitely planning to be there in 2020, hopefully with husband so he can thoroughly understand just how awesome this community is, although 2019 may be the last time I attend under the name Sandra Lindsey. I won't say "watch this space" because – no. I won't be making any announcements here, but if I do start flexing my erotica-writing fingers again, it'll be under a different pseudonym.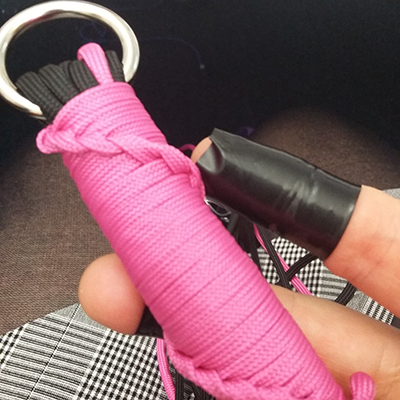 Oh, and I made a mini flogger with KinkCraft (who are as lovely as the first time I met them). The black tape wrapped round my fingers is a trick they taught me last time to prevent blisters forming.