I've only been twice before (2015 & 2017), but Eroticon is definitely one of my favourite events, and I'd recommend it to anyone writing about adult relationships. It's not just the content, it's the people, but also there's business-focused sessions you might not expect, and a wonderful community of people with such rich & varied life experiences that it's a delight to get to know them both on- & offline.
I didn't think I'd be able to go this year, but with one thing and another not working out as planned, I am now going – hooray!
Herewith therefore, my official online 'Meet & Greet':
NAME (and Twitter if you have one)
Sandra / @SLindseyWales I'm also known as Tigg to a lot of friends and family
Tell us 3 things you are most looking forward to at Eroticon 2019
Seeing people & meeting people. I love Twitter because of the conversations I can be part of – or simply read & open my mind to different ways of thinking – it's utterly brilliant to have a few days when we can also have those conversations face-to-face and, if appropriate, exchange real life (consensual) hugs rather than just virtual ones.
The journey down by train. Probably not everyone's idea of fun, but as there is a distinct lack of public transport* where I live I'm very used to having to drive everywhere. So it's a real luxury for me to be able to put the "getting me somewhere" into the hands of someone else while I just sit there… it gives me space to relax. Space & time in which I don't have to do anything, I can just *be*. And that gets my weekend away off to a brilliant start!
*one of our neighbours would object to this statement so I will provide the correction here: there is 1 bus a week. It goes to town on market day & comes back 2 hours later.
Meeting new people & having conversations which I know will stay with me & make me smile for years to come (like the one in 2017 about "People move house to get more space for their kids – why shouldn't I move because I need more storage space for my sex toys?")
We are creating a play list of songs for the Friday Night Meet and Greet. Nominate one song that you would like us to add to the play list and tell us why you picked that song.
Adam & the Ants: Prince Charming
It reminds me of my student days hanging round with lovely goth & glammy friends :-)
As someone who a) likes a huge range of music, & b) is rubbish at remembering song titles or artists' names, this question is *really* hard. Also my inner teen likes to get all anxious at questions like this & tell me that everyone will be judging me on my musical taste :-/
Oh, & if someone's already chosen Prince Charming I'd like to nominate a 2nd choice of Love Bomb Baby by Tigertailz – again, memories of student days :-)
(My student days were actually in the late 90s / early 00s but see above mention of goths & glammies)
What is your favourite item or book you've purchased so far this year?
Hmm… well I have purchased some absolutely delicious books this year but it's going to be far too hard to choose one of those above any other. I have also bought some adorable things for my youngest nieces who turned 1 & 2 in the early part of this year, but as far as things bought for me? I'm going to choose this tiger pencil sharpener which leapt off the supermarket shelf & into my shopping basket a few weeks ago: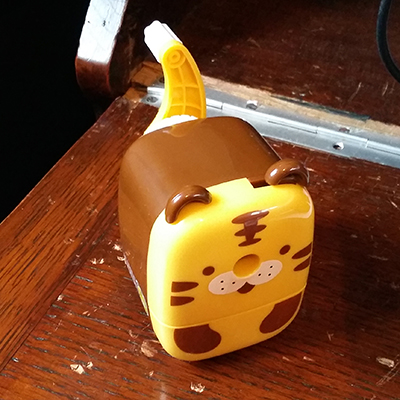 Isn't it just the most adorably ridiculous pencil sharpener ever?
You can have an unlimited supply of one thing for the rest of your life, what is it? Sushi? Scotch Tape?
It would be cheating to say "time", wouldn't it? And I guess "money" would be out too…
How about Montezuma chocolate? Oooh, or proper gorgeously thick hot chocolate as made by Rumsey's in Thame (which if I were driving down I would totally do a detour to go visit). Yes, definitely good quality chocolate of some form or other.
What is your favourite quote from a movie?
"I was fabulous, & it was a bloody good laugh!"
What is your word suggestion to next years Eroticon anthology?
Bright. Because it has a multitude of meanings & chatting with – or even just scrolling through posts from – people I've met through Eroticon always brightens my day, however rubbish I'm feeling
Complete the sentence:
I feel… madly, squeefully excited
And – it's not one of the official questions – but for those of you who'd like a face to put to the name, here's me: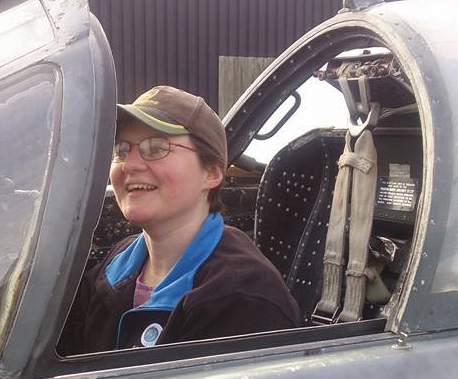 Now, if you came here from somewhere other than the Eroticon Meet & Greet post, hop on over there & go meet everyone else! (& I do believe there are still tickets available if you find yourself thinking you'd like to come along…)