Just booked my train tickets to get me down to that there London for Eroticon, and the broadband is *touch wood* not playing up, so time to introduce myself with the official Eroticon 'Meet & Greet' quiz!
NAME (and Twitter if you have one)
Sandra Lindsey, also known in some circles as Tigg – @SLindseyWales on Twitter because "sandralindseywales" is too long and there was already a "sandralindsey"
What are you hoping to get out of Eroticon 2017?
Fun! Spending time with clever, friendly people, some of whom I've got to know via Twitter since toddling along – as an utter newbie to anything outside the m/m romance genre – to Eroticon2015, and some of whom I'll meet for the first time next weekend.
This years schedule at Eroticon is pretty full on but which 4 sessions do you already have marked down as ones you want to attend?
Michael's session(s) about WordPress websites because I know my technical knowledge is seriously lacking and it really, really frustrates me.
Kate Lister's session on history of erotic writing.
Ashley Lister's session (because I got a hell of a lot more out of the one he did in 2015 than I ever expected to)
and of course a Kink Craft workshop! (last time I took my handiwork into day-job & went "Look what I made!" but to be honest I'm probably less likely to do that now that my desk is just outside the MDs' office – I might learn more than I wish to about their marriage!)
Tell us one thing about yourself that not many people know?
My favourite animal is a tiger
If you made the papers, what would the headline be?
Cock Fight Chaos!
If you could have one skill for free (I.e. without practice/time/effort) what would it be?
Either drawing, or the ability to go back in time and tell young!me that I just need to practice more, and maybe get one of those books about drawing animals out of the library, and my drawing could get as good as my friends' (to be honest, I think I'l rather have the second option happen because that would also teach me perseverance and other such useful skills)
Complete the sentence: I love it when…
my subconscious arranges all the elements of a story I half-know and works out how things fit together in a way which helps me fill in the gaps.
(I was going to say "…a plan comes together" but someone else got there before me and I don't like to copy)
~~
So, that's me: Sandra Lindsey, and just for visual reference, here's a fairly recent photo of me – grinning my head off because I'm in the cockpit of a Sea Vixen (wouldn't you be too?)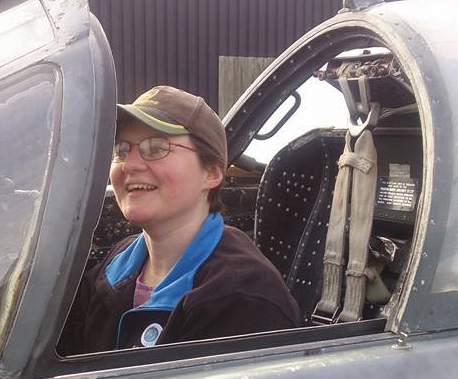 ETA: Linky back to the list of everyone's Meet & Greet posts!