I've had this last week off from my day-job. Not something I often do, taking a full week off, but I had enough days of annual leave left (our year runs Apr-Mar so nearly at an end), and it was my birthday last Monday so I thought "Why not?"
I had several things in mind which I wanted to achieve this week – and most of them are still on my "to do" list, but never mind!
One thing which wasn't really on my list beforehand was taking a trip into Shrewsbury, the closest "big" town to where I live. I bloody love the place, so when I saw mention on Facebook of possibly using the town for a (small scale) meet-up* of readers, writers & general fans of LGBTQ fiction I was all "Yes, yes! Please! I'll come! I'll find somewhere!" etc. Anyway, I had a lovely time, found three adorable possible venues (though one of them may be too small for the number of people who've expressed interest), and bought a few bits & pieces, not least of which was a birthday prezzie for my mum! I'm kind of rubbish at coming up with affordable prezzie ideas for anyone at the moment, so this was a major achievement. And of course I fell a little bit more in love with Shrewsbury again. It's a place ideal for wandering.
Then I rounded off my week by learning how to do wool-based magic.  Over the past few years I've seen more & more friends come out of the closet about being knitters so I decided, after nearly 30 years, to have another go at learning. So far, it's a lot easier than I remember: I suspect that something to do with having an adult-level of patience and far better problem-solving skills than I did when I was a kiddi-wink… I'm not expecting to become amazing at it, or to make lots of wonderful garments like some of my friends do, but it's nice to have something to do with my hands while I'm watching telly with Husband in the evening.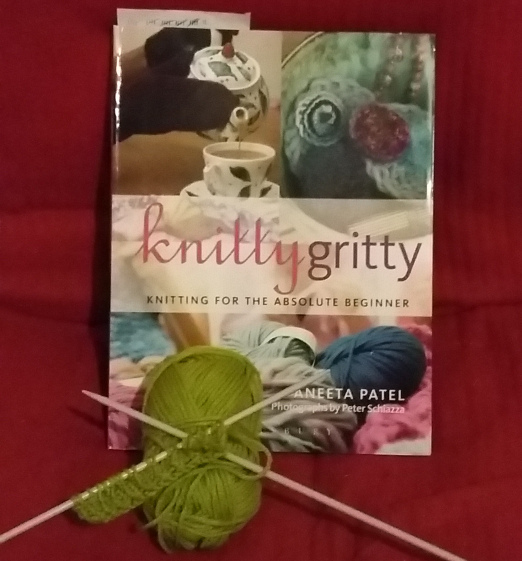 *There's several of these small-scale meet-ups being organised around the UK. If you're interested in joining in, request to join the Facebook group "UK MM Meets"